I've been studying the relationships in this pack. The humans seem to get along pretty well. The canines, well, let me just say that it's a good thing I'm here. Spring and Lyle have fairly dysfunctional relationships. For now, I'm focusing my efforts on Spring.
I think she can be helped. Sure, she seems cranky and bossy. She is. But I do think that deep down, there's a good dog in there somewhere. I think I can help break her out of her shell. How? I'm going to be her friend.
Spring resisted at first. She growled at me. She would get up and move away. But I think she's getting used to the concept. Poor Spring, I don't know that she's ever had a friend before. I believe she's learning. I think she's even learning to like it!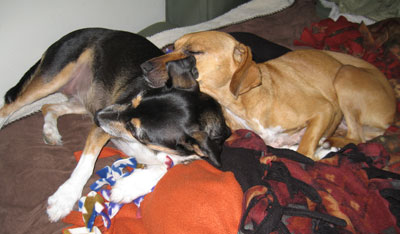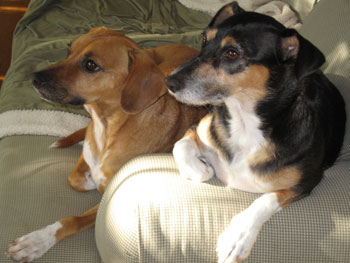 The next step is to get her to share her hopes and dreams. Then maybe I can get her to share her toys!
That's what friends are for.