A little while ago the bosses happened to see a bit of a show called "John and Kate Plus 8" or something like that. John and Kate are the parents, I think, and they have one gazillion kids. On this particular show, one of the kids got to spend the whole day with her parents; it was her "special day."

Now, we don't have a gazillion kids or even a gazillion dogs (although the bosses say some days it feels that way) but the bosses find that sometimes it's hard to give each one of us the individual attention we deserve. So they decided to try the Special Day approach. Spring has a Special Day every Saturday when she goes to class. She loves going to classes and sometimes she gets to go out to lunch with the bosses afterwards. Lyle got his Special Day at the vet, which isn't as bad as it sounds because he gets treated pretty nicely there and he got to go to Sonic afterwards for lunch. He's still going on and on about his Tots.
Yesterday it was my turn. Yay! I got to pick whatever I wanted to do. So I decided we'd go to Sonic for lunch (had to try the tots for myself, you see) and then go to the pet store so I could pick out a toy and some treats.
Sonic was beyond my wildest imaginations! I tried everything.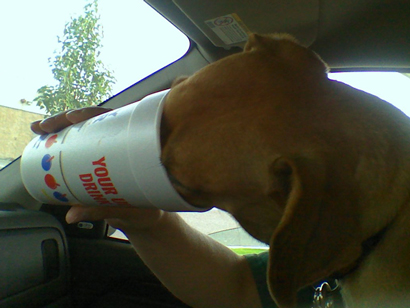 My favorite part was the peppermint. The boss ma'am said she'd never smelled a dog with better breath than mine. Chocolate malt peppermint breath. I did smell pretty good I think.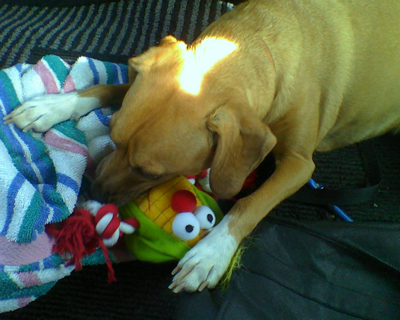 Then we were off to PetSmart. I picked out some of Paul Newman's (rest in peace, Mr. Newman) turkey cookies and a squeaky stuffed corncob. I got to carry my toy all through the store and play with it all the way home. No one tried to steal it. No one hogged the cookies. If that's not a special day I don't know what is.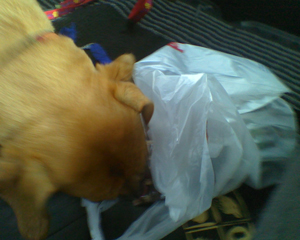 But of course I couldn't wait to tell Lyle and Spring all about it. I even shared my cookies with them. Hooray for Special Days!
And I have a new book for all you Book Club members. This one comes recommended by Yuji. It's Before You Were Mine, by Maribeth Boelts. It's an award winner, too! It won the Henry Bergh Children's Book Award Winner: Fiction Companion Animals Award 2007. And I can see why. It's a wonderfully sweet story about a boy whose family adopts a shelter dog. The boy wonders about what life was like before the dog came to his new home. Was the dog treated well? How did he end up in the shelter? But in the end he realizes that none of that really matters now that they have found each other.
If you're thinking about adopting a shelter dog for your family, this would be a great book to read to your kids. If you've recently lost a beloved canine companion, grab a tissue first!
In the afterward, Ms Boelts has this to say: "Home for a shelter dog means a place where there is training, companionship, and most important...love--the kind of love that focuses not on what may have happened in a dog's life before, but on the hopeful potential of his future." I like this lady!